The preservation of"Wasen" traditions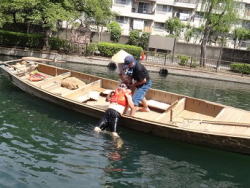 We are working on the handling technique of "Wasen" in the Edo period and inheritance of a"Wasen" culture.We strive for safe operation by steering with "Ro" which generate excellent driving force and manipulating "Kai" which is a kind of paddles freely."Wasen" ride is not as famous as Venice's gondola, but it needs certain technique or skill inheritance.

---
Maintenance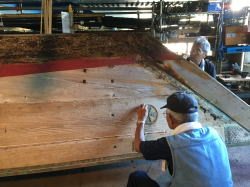 Cedar tree is the main material of "Wasen". Frequent soaking in saltwater will cause the wood to go bad. Like other boats, it is also essential to remove shellfish from the bottom. In our workshop we regularly change old copper plates to new one and replace the worn parts.
---
Experience(Boarding and Rowing)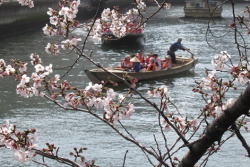 One of our pleasures is to get our guests on board. The traditional Japanese wooden boat is near extinction. Some of boats are cultural assets. It is a great pleasure for us to manipulate this traditional boat and be pleased with our guests. Furthermore, if you want it, you can have a short rowing lesson using "Ro".
---
Event Cooperation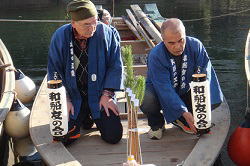 Besides usual activity place , we will move to other rivers and work when we are in the spring cherry blossom festival or the river festival. However, during these time, "Wasen" guest will pay 500 yen as boarding fee. You can not imagine that you are in a big city Tokyo when you take a slow boat ride under the cherry blossoms in full bloom. Another world will be spreading there.
---