Technology tradition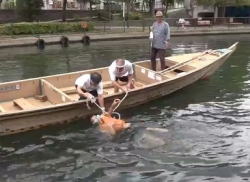 We are working for the handling technique of the Edo Japanese ship and the tradition of culture.We strive for safe operation by manipulating "Kai" which resembles the ship's steering using "Ro" with excellent driving force and paddle freely.It is not as famous as Venice's gondola, but it conveys certain technology.
---
Maintenance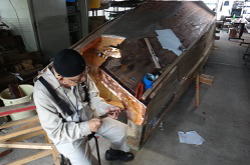 Cedars are the main material of our ship. Frequent soaking in seawater will cause the wood to go bad. Also, as with other boats, removing the shellfish at the bottom is also essential. I regularly work on changing the old copper plate to fried in the workshop and replacing the worn parts worn out.
---
Experience(Boarding and Rowing)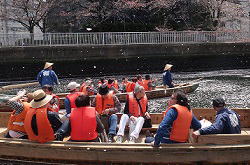 One of our pleasures is to get the customer on board.Traditional Japanese wooden ships are on the verge of extinction.Some ships are cultural assets.It is a great pleasure for us to manipulate this traditional ship and be pleased with our customers.Furthermore, if the customer wishes, it is possible to experience the marine vessel maneuvering using "Ro".It will be possible to line in a short time so please try it.
---
Event Cooperation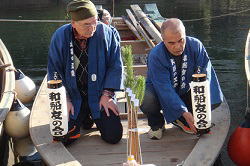 Besides usual activities place, we will move to other rivers and work when we are in the spring cherry blossom festival or the river festival. However, when getting on board here, we get a charge of about 500 yen. I can not imagine that I am in a very big city in Tokyo when I take a slow boat under the cherry blossoms in full bloom. Another world is spreading there.
---